Benefits of eating neem leaves on empty stomach
Benefits of eating neem leaves on empty stomach are well known by most in the Indian community.
Let's find out all there is to know about it.
Dirty
or Clean?
Free Analysis
What is neem juice?
Neem is that bitter leaf which our moms made us consume as children.
Botanical name: Azadirachta indica
That leaf has several beneficial properties, and can be juiced industrially.
The juice extracted from neem leaves is called neem juice.
So, what are the benefits of eating neem leaves on empty stomach?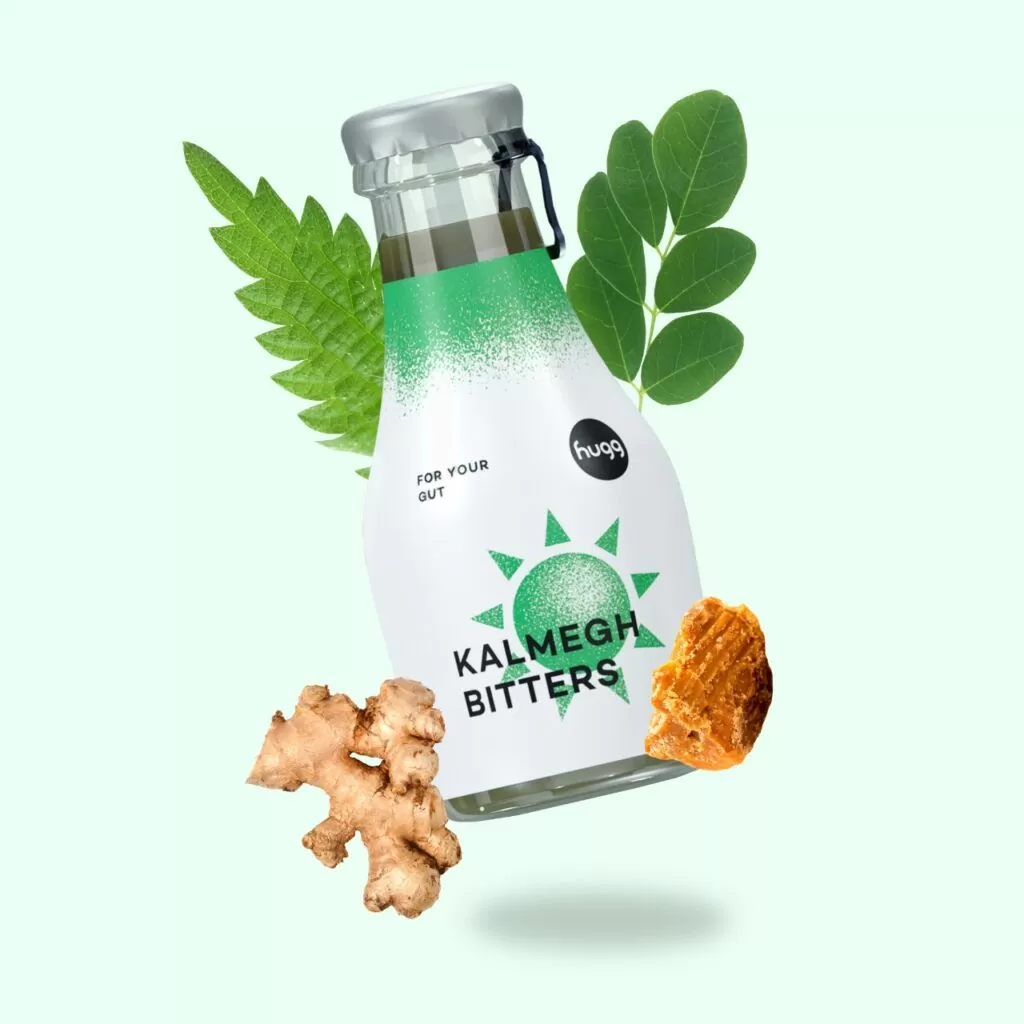 The juice to eat without bloating
❤️ by 300+ nutritionists
Drinking Neem Water Benefits
Drinking neem water benefits allows you to get the most out of it; on an empty stomach.
Here is a comprehensive document detailing various unique qualities and benefits of drinking neem juice regularly.
Neem: The Wonder Herb | A Short Review
High in antioxidants
Antioxidants help to counter harmful free radicals in the body. This helps to improve immunity, and creates resistance against foreign particles in the body.
Strong antiviral properties
Neem bark and neem leaves have virucidal properties; they seem to interfere with the replication of a virus and give the immune system more time to fight the infection.
Neem leaves are also commonly used against fungal infections and conditions like Malaria.
Good digestive
Astringent properties of Neem leaves are shown to help to reduce the formation of gas, bloating and flatulence.
Good for skin
Neem juice can benefit your skin when you apply it externally and when you drink it internally.
Rich in minerals and antioxidants, neem juice mixed into your face pack can help you with:
Reducing acne
Prevent fine lines
Reduce blemishes and spots
The antioxidants in neem are beneficial for reducing melanin production of your skin, which helps to even out your skin tone.
Neem juice is a great source of vitamin E and anti-inflammatory compounds.
Drinking neem juice everyday in the morning can help you detoxify, that in turn can help you:
Get glowing skin
Get clear skin
Reduce the frequency of pimples
Improves metabolism
Neem leaves seem to aid breakdown of body fat. Drinking neem juice regularly will help you get a cleaner stomach, improve your metabolism and help maintain your weight.
This means for every 10grams of neem you should use 5ml of water.
Here are the nutritional guidelines for neem juice that show that 100ml is good enough for regular consumption:
How much neem leaf to take daily?
100ml of diluted neem juice is the recommended allowance. It is great for everyday detoxification.
However, if your personal goals include weight loss, you can consume up to 200ml.
The ratio of neem leaves (in grams) to water (in ml) should always be 2:1.
| | |
| --- | --- |
| Nutrient | NEEM JUICE (per serving size/ 100ml) |
| Iron | 0.36mg |
| Potassium | 86.8mg |
| Sodium | 3mg |
| Sugar | 1g |
| Dietary fiber | 0g |
| Vitamin A | 1% |
| Vitamin C | 40% |
When to drink neem juice?
It is best to drink neem juice early in the morning, on an empty stomach.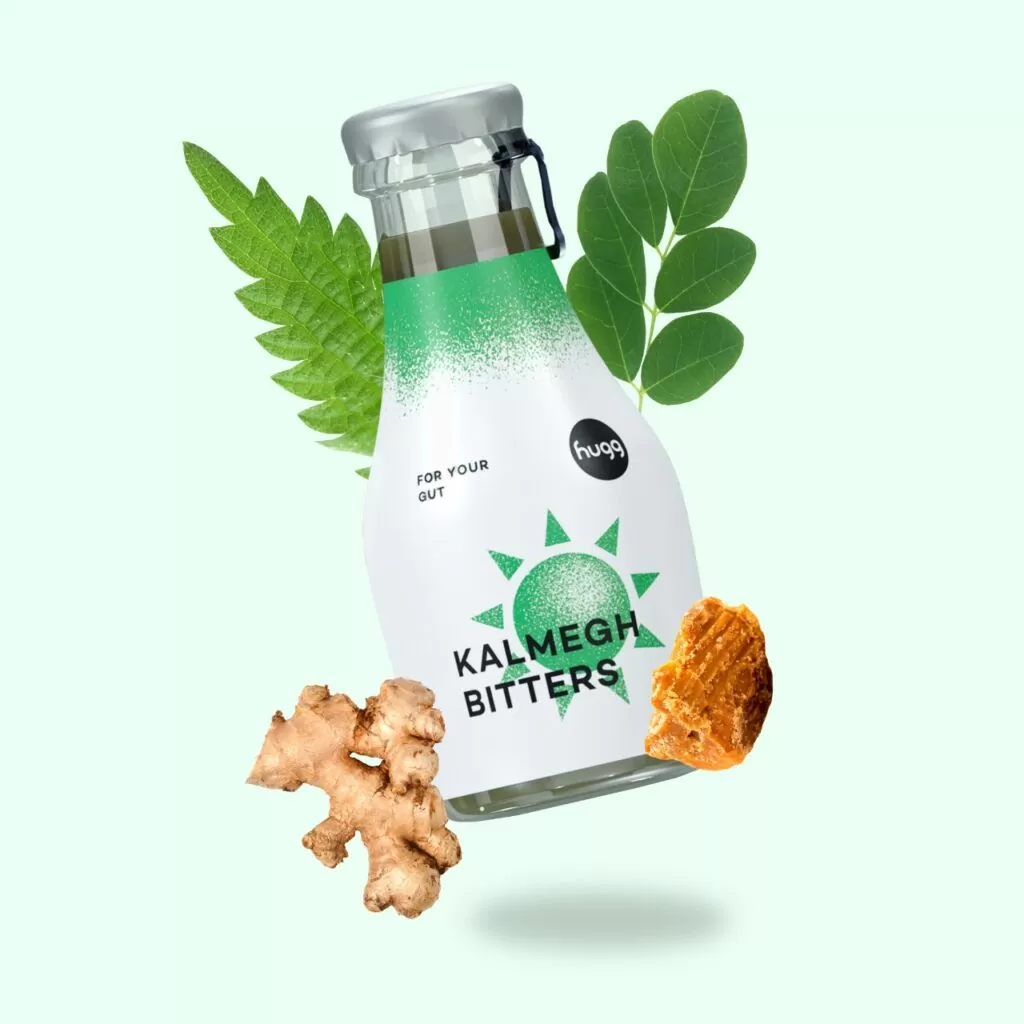 The juice to eat without bloating
❤️ by 300+ nutritionists
Neem leaves are loaded with a number of advantages for the body.
Drinking it on an empty stomach allows you to make the most out of it.
Neem juice side effects
Despite the numerous benefits, neem juice side effects are aplenty.
Excess consumption may lead to gastric issues
Neem contains a compound called Azadirachtin. It is a chemical compound belonging to the limonoid group.
Excess consumption of it can lead to gastric issues such acidity, vomiting and diarrhea.
Potential cause of brain malfunction
Neem seeds are reported to have a long-chain fatty acid that can induce drowsiness, seizures and loss of consciousness.
Source: https://www.ncbi.nlm.nih.gov/pmc/articles/PMC4791507/
How much does neem juice cost?
An average bottle of neem juice costs Rs 250/- per 1L.
It is cheaper to make it at home. Here's the mathematical reasoning:
Average bundle of 1kg neem leaves cost: Rs. 160/-
Out of 1kg, you can get 500ml of neem juice (that can further be mixed with 500ml water to double the amount).
Therefore, you can get 1L of neem juice for Rs. 160/- only at home.
Further:
It is free of preservatives
You get fresh neem juice, that does not become viscous in texture over time
You get the benefits of raw unprocessed neem leaves
However, some minor inconveniences can be:
Lack of unavailability on neem leaves in the immediate community
Extra usage of resources such as blender, electricity etc.
You cannot store neem juice in stock. It can turn viscous in nature due to remnants of fiber.
If you wish to get yourself a bottle, here are some of the options:
Frequently Asked Questions
What happens when we apply neem juice directly on skin?
Due to its astringent properties, neem can cause irritation for some skin types. Redness and itching is quite common.
This is why it is best to apply neem juice along with a face pack on the skin.
The benefits include:
Evening out skin tone, as neem regulates melanin production of skin
Reduces the dark spots, blemishes and any kind of redness on your skin
Can we drink neem juice daily?
No, you should not.
According to the medical board of India, consuming over 60mg of neem juice everyday can directly harm your liver and kidney.
We recommend drinking neem juice only for a few days continuously, or every alternate day for one month.
Neam leaves for skin lightening?
Neem leaves have a lot of antioxidant properties. It has been said to reduce melanin production in the skin, giving you a white complexion.
Apart from that it helps reduce acne and blemishes, by purifying the blood.
However, the results can vary based on your individual medical history.